Engaging Neighbours
Required shift from cross-lease to sub-division.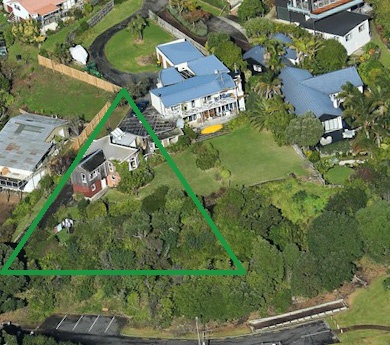 Social Solutions
*Reduced our land size (green triangle), increasing neighbours' to enable them to further sub-divide in future: This resonates with the city's need for more houses per site.
*Included a pedestrian pathway enabling neighbours to walk down to the beach.
*Intention to dialogue with Council regarding restoration of public land adjacent to Tanglewood Eastern boundary. (down to the car park and Sailing Club)

THANKS Tuhoe for showing the way!
First LBC fully certified ex USA! Whare Kura, Tuhoe: https://living-future.org/lbc/case-studies/te-kura-whare/

Headwaters: A bold, generous LBC project to open March 2018. https://www.theheadwaters.co.nz/
The Living House: Rochelle and Joel - epitomy of perseverance and commitment! Setting precedents to help us all. www.Livinghouse.org.nz/
Documentation and Monitoring
Materials; suppliers; products tracking sheets started.
Monthly up-dates distributed to project team, interested suppliers, friends and family
Website-build in progress